"Waiting On" Wednesday is a weekly event, hosted by Breaking the Spine, that spotlights upcoming releases that we're eagerly anticipating.
Laura Dave, the author of this week's book is another one of those authors where I almost don't even need to read the blurb before I decide to go ahead and buy their next book.  I've read and absolutely loved her other four books so I don't doubt that I'll feel exactly the same about this one.  If you haven't read anything else by this author, I would also recommend 'The First Husband', which was the 1st book I read by her way back in 2012 and my absolute favourite.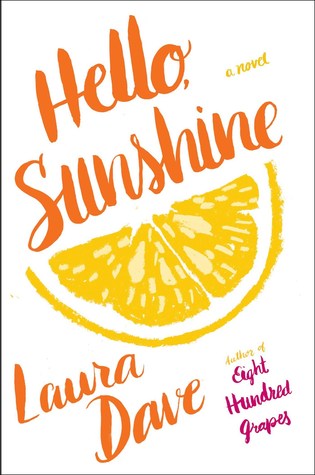 Hello, Sunshine
By: Laura Dave
Expected Publication Date: 11 July 2017
Pages: 256
Genre: Women's Fiction
Goodreads blurb:
From Laura Dave—the author of the "addictive" (Us Weekly), "winning" (Publishers Weekly) and critically acclaimed bestseller Eight Hundred Grapes—comes a new novel about the secrets we keep…even from ourselves.
Sunshine Mackenzie truly is living the dream. A lifestyle guru for the modern age, Sunshine is beloved by millions of people who tune into her YouTube cooking show, and millions more scour her website for recipes, wisdom, and her enticing suggestions for how to curate a perfect life. She boasts a series of #1 New York Times bestselling cookbooks, a devoted architect husband, and a reputation for sincerity and kindness—Sunshine seems to have it all. But she's hiding who she really is. And when her secret is revealed, her fall from grace is catastrophic. What Sunshine does in the ashes of destruction will save her in more ways than she can imagine.
In our modern world, where celebrity is a careful construct, Laura Dave's compelling, enticing novel explores the devastating effect of the secrets we keep in public…and in private. Hello, Sunshine is a fresh, provocative look at a woman teetering between a scrupulously assembled life and the redemptive power of revealing the truth.
What are you waiting on this week?