Book Beginning is hosted by Rose City Reader.  It's where you share the first sentence (or so) of the book you are reading, along with your initial thoughts about the sentence, impressions of the book, or anything else the opener inspires.
This week's quote is from 'Wait For It' by Mariana Zapata.
I woke up screaming.

Or pretty close to screaming, considering I was still getting over a cold I'd caught from Josh two weeks ago that had left me sounding like a chain-smoker going through puberty.
My Initial Thoughts
This will be the 4th book I've read by this author (after 'Rhythm, Chord & Malykhin', 'The Wall of Winnipeg and Me' and 'Kulti' which is one of my all-times favourites and features this week's Book Boyfriend and big hunk of German chocolate cake, Reiner Kulti).  But even if it was the 1st, I still think that I would have known just from that opening sentence that I was going to really like this book.  It wasn't just that it had me intrigued – if somebody tells me they woke up screaming, the 1st question I'm going to ask is why? – it was more the description of how she sounded like a "chain-smoker going through puberty" which made me laugh out loud because that's exactly what I sound like when I have a stinking head cold.  I was like, yep, we're going to be friends.
Even though I LOVED, LOVED, LOVED the previous 3 books written by the same author, I'll admit that I was still a little apprehensive about starting this one.  I think it's because of the sheer number of pages (670) – it's kind of intimidating and I'm definitely more of a 'I like small books and I cannot lie' kind of a girl, especially when I've set myself a target of reading 200 books this year.
But I've got a chunk of free time at the moment while I wait to hear about my new job and a scratchy throat which isn't quite at pre-pubescent chain-smoker stage but it's getting there so I thought I'd curl up on the sofa and read the 1st couple of chapters… when I looked up again, I was already 20% in!  I don't know if I'd feel differently if I was reading it as a paperback and could still feel all the pages to be read between my fingers but I'm reading it on the Kindle app (with that pesky % hidden) and so far, I'm really enjoying getting to know more about Diana and her two boys (Josh and the oh so adorable Louie).  I really like the connection to 2 of the author's other books: 'The Wall of Winnipeg and Me' (Diana is Vanessa's best friend) and 'Kulti' (Diana has the same surname as Sal and at one point she mentions that there are 2 soccer players in her extended family).
We'll see how it goes but I'm optimistic that this is going to be another 5+ star read.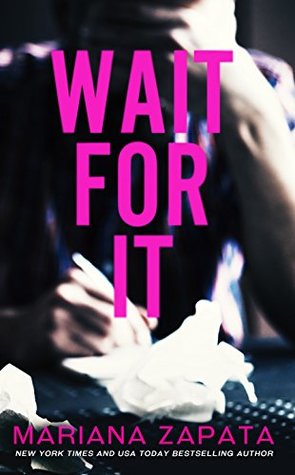 Wait for It by Mariana Zapata
If anyone ever said being an adult was easy, they hadn't been one long enough.
Diana Casillas can admit it: she doesn't know what the hell she's doing half the time. How she's made it through the last two years of her life without killing anyone is nothing short of a miracle. Being a grown-up wasn't supposed to be so hard.
With a new house, two little boys she inherited the most painful possible way, a giant dog, a job she usually loves, more than enough family, and friends, she has almost everything she could ever ask for.
Except for a boyfriend.
Or a husband.
But who needs either one of those?